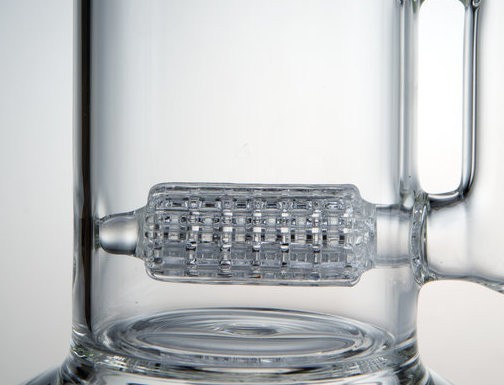 | Approximate # of points of diffusions:
| Medium: 80
| Large: 100

We've pushed the laws of physics to offer one of the smoothest experiences.  Picking up where other artists have been content to push this technique, the family wanted to utilize this technique but provide a more functional experience. The barrel stemline offers optimum diffusion through 360 degrees of obstructed flow. It's neither an up-grid or a down-grid; we wanted our stemline to be all around gridding. Similar techniques and functionality of our Barrel Stemline can be compared to a wide variety of gridded percolators on the market. We challenge you to experience the family's take on 360 degrees gridding!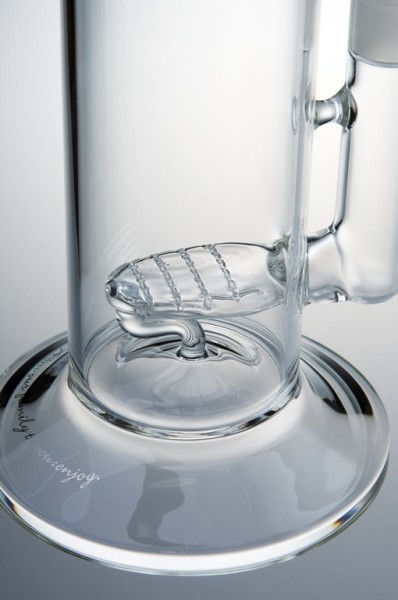 Our Gridded Tongue is a complex melding of inspiration from the tried and true, mixed with the desire for more diffusion and flavor. Similar techniques and functionality can be compared to the Waffle Perc, King Stemline, or any other up-grid percolators on the market. We love this percolator because of the push of airflow it provides especially on the bottom chambers of our double percolator pieces. Perfect for upwards airflow while preserving flavor!

| Approximate # of points of diffusions:
| Medium: 30
| Large: 40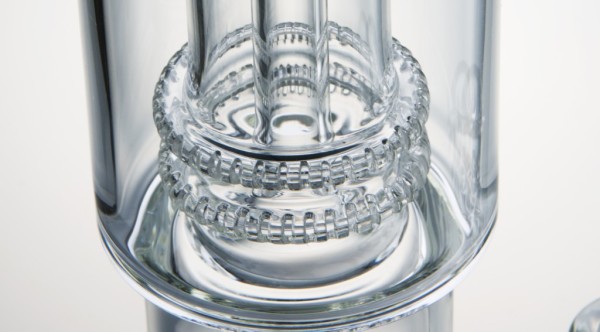 Similar to its namesake, the showerhead pushes water through all the cuts skillfully made by our blowers in a ring shape. We've always loved showerheads/circs personally and really wanted to take ours a bit further by doubling up. This allows greater capacity for air while wonderfully forcing air flow so that more bubbles are stacked with minimal effort, firing evenly around. Although the top row always fires, the bottom row doesn't consistently fire during milking because air doesn't naturally want to get pushed down when there are other alternatives above it. This design consideration comes into play during the carve & the end result is improved airflow throughout the entire hit.
| Approximate # of points of diffusions:
| Medium: 80
| Large: 100